How to Raise Money with Colorful Run Fundraisers
Colorful Run Fundraisers are a fun and creative way to raise funds for your organization.  Your participants have a blast and will be excited about sharing pictures and social media posts about your event!  In addition they'll have so much fun they will look forward to participating every year and your organization can rake in the dollars!
Here are our 5 tips for Colorful Run Fundraisers!
Registration Fees for Fun Run Fundraisers
The easiest way to use a fun run for fundraising is by charging a registration fee for your race.  Whether it's $5 or $50 make sure you have considered all of your costs before you determine what your registration fees will be.  Don't forget to include venue costs, color powder costs, give-aways and prizes, entertainment etc. Your registration fee should work out to cover all of your costs, then add to it how much you want to make per runner.  Give participants an incentive to sign up early.  For example if they sign up at least 30 days in advance their registration fee may be $10 less than signing up after the deadline.  Open registration for your race early – at least 60- 90 days prior to your event date.  The earlier you have registration available the more time you have to market your race.
Pledges/Donations – Fun Run Fundraisers
Ask your runners to take pledges  for each lap or mile they run or collect donations.  Give runners a goal that is conducive to your community.  For example it may be for every student to collect $50 in donations or $100 in donations.  Break it down for them – ask them to collect $10 from 5 people or $5 from 20 people.
Award prizes to the runners that collect the most pledges.  You will be surprised how many  students collect more than their goal!  Sometimes local businesses are willing to donate prizes – for example for a school Colorful Run the local bowling alley, pottery studio, movie theater  – any kid friendly venue may be willing to donate gift certificates you can provide as prizes. Distribute the prizes based on how much they collect in donations.  For $100 in donations they may win a gift certificate to the local ice cream store, for $200 they may win movie tickets etc. Offer prizes that will be incentives for your community to collect donations.
Find an online fundraising platform that will allow students to easily email friends and family so they can donate to the cause with jut a click of a button.  Encourage parents to use their social media and email contacts to ask their network for support.  You will be amazed how much more you can raise when 200 kids send emails to 5 to 10 family members.
Sponsors –
Work with your local business community to generate sponsorships.  Many businesses are willing to donate goods and services.  Businesses may also donate funds to your cause in exchange for having their logo listed on your race website, or on a banner at race day.  For example:
Color Station Sponsors – Ask a local business to sponsor a color station for a nominal fee or donate the funds needed to purchase the color powder for a color station.  Make sure to acknowledge that business in signage at the color station, on your website, in email blasts etc.
Start and Finish Line Sponsors – Ask a local sign company to make banners for your start and finish line and perhaps donate them in exchange for having their logo on the banner.  You can also charge a fee for a start or finish line sponsorship.  In exchange the business gets their name on the banner.
Water Sponsors – For Colorful Run Fundraisers, many groups have had good luck with a local grocery store donating water and sponsoring a water station.  Other businesses may be willing to donate funds to purchase water bottles for your water stations.
Clean Up Station Sponsor – We suggest a blow off station at the end of the run where you blow the excess color powder off your participants with a leaf blower before they get into their cars – asking the local hardware store or garden supply store  to sponsor  this station is a great idea!
General Sponsorships – Local businesses may donate funds in exchange for having their logo listed on your race website, in your email blasts, on signage or on your t-shirts.  Be creative, there is no end to sponsorships!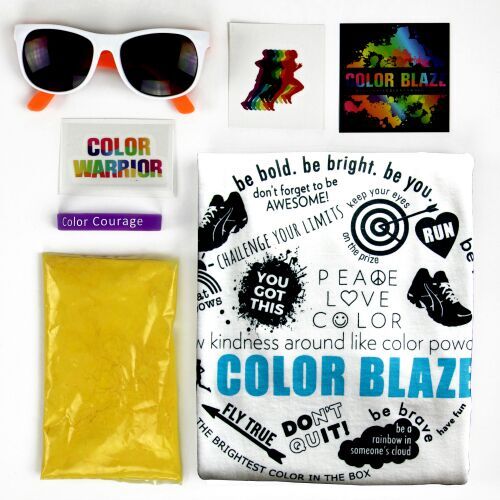 Race Kits –
If you are planning on including a t-shirt with registration or including fun give-aways with their registration packet you may want to consider a Color Blaze Race Kit.  Race Kits come with or without a t-shirt, one individual color powder packet, one inspirational bracelet, temporary tattoos and a sticker.  They also include 1/2 pound of bulk color powder per runner.  So if you order 200 race kits you will receive 100 pounds of bulk powder with your order.  It is a great way to offer an inspiring registration packet and cover some if not all of your color powder costs depending upon how many race stations you may have.  A race kit with a t-shirt is $12 with free shipping.  If  you charge $25 for registration you automatically cover your race kit cost and your bulk color powder for 3 color stations and add approximately $13 profit.
Communicate often!
Perhaps the most important part of the equation.  Start Early! Send emails often , give encouragement, send deadlines and reminders and updates.  When your participants hit a fundraising goal let everyone know.  Foster a little friendly competition to see who can raise the most money.  Keep everyone pumped up to participate in your event and to keep raising those funds.  Post across all your social media channels, encouraging sign ups and make it easy for your followers to share details about your race.  Set Goals!  Keep everyone Inspired!  Have Fun and Raise some FUNds!
Some more links on our website that will help you with your fundraisers!
How To Organize Fun Run Fundraisers
Keep Color In Color Blaze Shirt
Color War Powder
Learn About Holi Powder