At Home Color Party DIY – Color Powder Balls Recipe
Looking for family or small social group fun activities? Have a color powder ball war! Use our easy step by step DIY recipe to make your own color powder balls. Then gather with your family or a small group less than 10 in an open outdoor space. Let the war begin! 
What you'll need:
Bulk Color Powder– We suggest 4 colors for 4 team as this will allow for ample options of different games to play at the color party. Yet, depending on the number of participants attending the event, limit or add colors accordingly
1 cup measuring cups
Scissors
Dixie Cups or Bowls for pouring the color
Nylon Pantyhose – Nude colored and cheap are the best! Also, if possible, see if you can find pairs with tall sizing to maximize the amount of material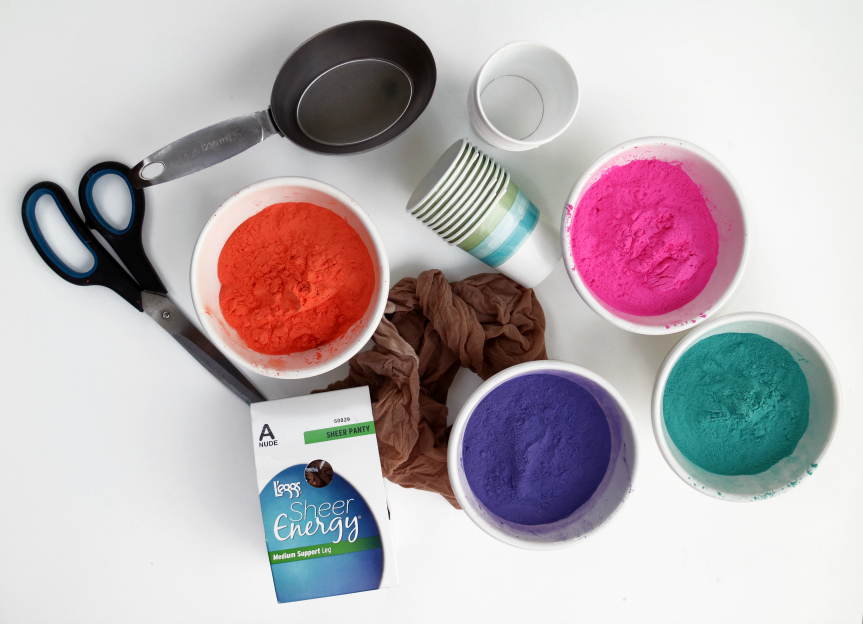 Steps-By-Step Instructions:
Cut each leg of the pantyhose at the knee and at the groin.
Each pair yields a minimum 4 lengths of nylon, providing 4 Color Balls for your color party.  (You can make more Color Balls out of each length depending on the size you want.  Just insure you leave enough length to tie them off.)
2 sections will have a foot and the other 2 are open on both sides, so you will need to tie one end to prep for filling.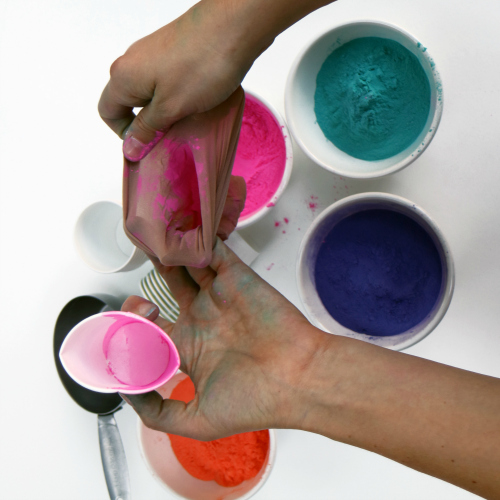 Measure the bulk powder for 1 cup per nylon length. You can use small Dixie cups to fill (4 x 2 ounce Dixies = 1 cup)
Pro Tip for filling the nylons with color: We tried a few different techniques and learned what worked well and what is less successful for a color party.
One thing to keep in mind is that if you stretch the nylon fabric too much, the fibers separate and the powder falls through. So, do NOT stretch the whole leg over a bowl and then dump the powder in, because you will find it will fall through and you will lose a lot of product on the ground.
Stretch the opening just enough, and then let it fall into the unstretched foot.
Once filled with 1 cup of color, the ball should be about the size of a hackie sack.
Then, just tie the end/ends to lock in the color.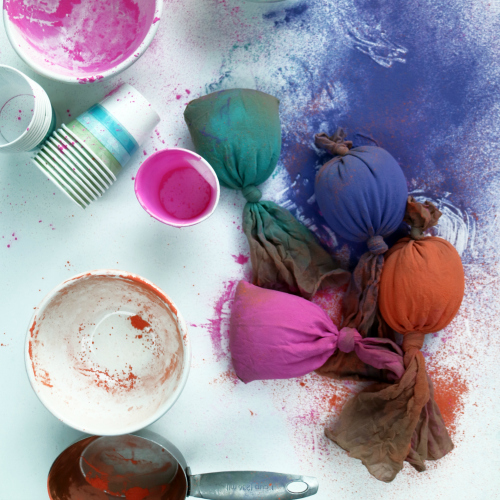 Depending on the color party games you have planned, you may want to make 1-3 Color Balls per participant.
It just depends how long you want the activity to last.  The ball can be thrown over and over again until it is out of powder.