COLOR POWDER FAQs
Shipping
How Long Will It Take to Get My Order?
We ship most orders, even wholesale and bulk orders, the same day we receive them (if ordered by Noon PT/ 3pm ET, Monday – Friday). We can ship almost anywhere in the continental US within 3 business days. If you are concerned about when your order will arrive or you have a short shipping window please call us or email for more information  888-252-6567 or info@colorblaze.com
COVID-19 Update: Our shipping carriers (UPS and USPS) have been experiencing delays. Standard shipping is 2-3  business days, but is not guaranteed at this time and may take an additional business day to arrive. Overnight and 2nd Day Shipping is also not guaranteed. Please contact us with any questions.
Race Kit Shipping
Our race kits ship from our West Coast warehouse so shipping times can vary.  We do ask for 2 weeks notice on race kit orders.  If you need your race kits sooner than 2 weeks please call or email for more information –  888-252-6567 or info@colorblaze.com
Expedited Shipping
Next Day – Orders for Next Day Delivery that are received before 2pm ET, Monday through Friday, will ship the same day and deliver the next business day.  Saturday and Sunday are not considered business days.  Orders received after 2pm ET on Friday or anytime on Saturday or Sunday will not ship until Monday and will be delivered on Tuesday.  If you need Saturday delivery please call us at 888-252-6567.
2nd Day – Orders for Second Day Delivery that are received before 2pm ET, will ship the same day and deliver in 2 business days.  Please note, Saturday and Sunday are not considered business days.  Orders received after 2pm on Wednesday will not be delivered until Monday.  Orders received after 2pm on    Thursday will not be delivered until Tuesday.   If you need Saturday delivery , please call us at 888-252-6567.
Missing Package
Any missing packages must be reported within 7 days of the packaged being confirmed delivered by the shipping carrier. If the missing package has not been reported within 7 days, we will be unable to assist you.
Tracking shows my package is delivered but I can't find it – what do I do?
Once a package is picked up and scanned in by our carrier, the shipping and delivery status is no longer within our control. Please reach out directly to the carrier for missing or stolen packages. We are unable to send replacements or provide refunds, and we are not responsible for shipping addresses that were incorrectly entered at checkout.
Wrong Address
If a customer reports that they put the wrong shipping information in the shipping address field, they are responsible for retrieving the package or placing a new order with the correct address. We will not reship the package.
SHIPPING MAP
Do You Ship To Canada?
Yes we do! All items are in US Dollars.  Just order online as usual. Once you have items in your cart you can click on "view cart" and use the shipping calculator to see your shipping costs. Shipping costs do not include any custom fees or import taxes. Customs fees/taxes vary depending on local regulations and can only be paid at the destination by the customer.  Please insure that the phone and email information are correct so customs may contact you.  Customs processing time can create delays in shipping time.
Do You Ship Internationally other than Canada?
We do ship internationally through our Ebay site. We get a better discount on international shipping and you get the security of using a large company like Ebay. Just click on this Ebay link and you can see our products. You can click on any item and then click on "see details" next to shipping. Enter your country and postal code to see the shipping charges and estimated ship time. We look forward to working with you.
What Is Color Powder?
Whether you call it Color Powder, Colored Chalk, Colored Dust, Holi Powder, Holi Colors etc.,  it is essentially the same thing.  Bright, vibrant powder used to throw at Holi Festivals, Fun Runs, Color Wars and other events.  Our Color Powder is made from a blend of food grade cornstarch, FD&C and D&C dyes (food, drug and cosmetic dyes) and baking soda.
Color Powder Quantity and Usage
How Much Color Powder is Needed For A Fun Run or Color Race?
For Color Race/Walk type of events we recommend a minimum of ½ pound per participant if there will be 3 or less color stations. If your event will have 4           or more color stations, we recommend at least ¾ pound per participant. 5 color stations would require a minimum of 1 pound per person.  You can see more detailed information on our blog post "How Much Color Powder Do I Need."
How Much Color Powder is Needed For A Color War?
There are a lot of variables in a color war – what type of game are you playing, how you disperse the powder etc.  The color can go very quickly.  For Color Wars we generally recommend 1 pound of powder or more per participant for best results, however, you can get by with a minimum of 1/2 pound per participant if your budget does not allow for 1 pound of color powder.  We have some great ideas for Youth Ministry/Youth Camp color powder games on our blog.
How Much Color Powder Do I Need For Other Events?
For other events such as gender reveal parties, birthday parties,  festivals, pep rallies and photo shoots it depends on what you are planning to do. Call us  for more detailed information about your colored powder needs: 888-252-6567.
School Purchase Orders For Color Powder Events
Do You Accept School Purchase Orders?
Yes! We accept purchase orders! If you are a school or organization with a valid tax id# you can fill out our Purchase Order Quote Request Form or give us a call 888-252-6567 and we will be happy to provide you with a quote in order to facilitate the purchase order process.
Color Powder Safety and Clean Up
Is Color Powder Safe?
Safety is our main priority! Our colors are made with high quality cornstarch, food dyes and baking soda. All materials are 100% FD&C and/or D&C approved.  Our color powder contains natural fire retardant materials that dramatically reduce fire risk.  However, cornstarch in a dust state can be flammable under certain conditions.  Out of an abundance of caution do not use near open flame, smoking materials or other ignition sources.  If you would like a copy of the Safety Data Sheets please contact us at 888-252-6567 or email us at info@colorblaze.com
Does Color Powder Contain Gluten or other common allergens?
Our color powder is gluten free and does not contain dairy, nuts, wheat, soy or other common allergens.  Although it is made from all food safe ingredients, it is not created in a food safe facility and is not intended for human consumption.
Is Color Powder harmful if you inhale it?
Although all the materials are food grade we do not recommend inhaling large quantities of color powder.It should always be used in well ventilated outdoor space and when throwing at participants you should aim for the chest area.
Anyone who has asthma, is allergic to any of the ingredients or has any respiratory issues should exercise caution when participating in color powder events.
Does Color Powder Stain Clothing?
Our color powder washes out of most clothing. However, it can stain some materials. 100% cotton clothing is recommended and typical machine washing with stain remover, removes the stains. We recommend removing excess powder from clothing before washing and/or applying water.
How Do I Keep the Color in My Shirt From A Color Fun Run?
While some people are concerned with making sure that the color washes out of clothing others want to show off their colors.  We have detailed instructions on how to keep the color in your color fun run shirt on our blog.
Does Color Powder Stain Skin or Hair?
Just as with clothing we recommend shaking off all excess powder before exposing to water. Normal soap and water should remove color powder from skin and hair. Some color does tend to linger for a few days especially on blonde hair. If you are worried about staining, we recommend applying a moisturizer to skin and coating your hair with a small amount of coconut or olive oil before the event.
Will Color Powder Stain Cement or Grass?
Most color powder can be removed from cement and streets with a hose. If needed some liquid detergent and a power washer can help remove the powder. Normal liquid dish detergent and/or de-greaser will remove Color Powder from cement and paved areas. Simply running the sprinklers and/or mowing the grass will remove color powder from grassy areas.
Can I Use Color Powder Indoors?
No. Color Powder is intended for use outdoors in a well ventilated area and should be kept away from open flame.
Can I Use Color Powder on my School Track?
No, you should not use color powder on school tracks. There are many different track surfaces and we can't guarantee that the color will not stain. We recommend keeping the color powder in a grassy area where the sprinklers or Mother Nature can wash it away.
What is the difference between bulk color powder and individual color powder packets?
Bulk Color Powder is generally sold in 5 pound or 25 pound increments and is used to throw at runners at different stations set up through your color race course.  Individual color powder packets are small packets with approximately 2.5 ounces of powder that participants use at the beginning or end of a color fun run to toss in the air and shower themselves and everyone around them with color.  Individual packets are also great for photo shoots and pep rallies.
How to Set Up Color Powder Events
What Permissions Do You Need to Hold a Fun Run or Color Race?
The permissions needed to host a Color Event vary greatly based on your municipality and organization.  You should always check with your local school officials and local governments depending upon where you are holding your Fun Run with color.
How Long Should Your Color Race/Walk Be?
It can be any length you choose!  Most choose to do 1 to 3 miles depending on the the age of your participants.  Some organizers create a long loop around their school, others have a course run through city streets or parks.  In most cases organizers plan on having 3 to 5 color stations.  We say the more color the better of course!
What Is A Color Station?
A color station is a point in your  Fun Run that runners pass through and your volunteers throw color powder on them.  See our video on the home page for a great example of a color station.
How Do You Throw Color Powder on Runners in a Colorful 5k?
We recommend using squeeze bottles or small 3 ounce dixie cups.  Our customers prefer squeeze bottles because you tend to not waste as much powder and they aren't quite as messy.  You simply fill the squeeze bottles with color powder, point at your runners and squeeze.  With dixie cups you just scoop up the powder with your dixie cup and throw it on the runners as they go by. See our blog post with a video on how to set up your color stations and how to throw color powder.  
Gender Reveal Questions
Can you use your color powder for a baby gender reveal?
Absolutely!  Many people order our powder to use at a baby gender reveal party.  We have many packages available whether you are planning a gender reveal explosion, gender reveal tire burnout, a car exhaust gender reveal or a fun photo shoot or color toss.  We have many sizes and packages to choose from – you can see all the options on our Gender Reveal Shop Page.
Returns
Do you accept returns?
We typically do not accept returns due to quality control issues and the high cost of return shipping for the consumer.  However, in some instances we can make exceptions.  Please note: any product returned must be unopened in its original packaging, you will need to pay the return shipping costs and there may be a restocking fee.  Please contact us for more information regarding returns.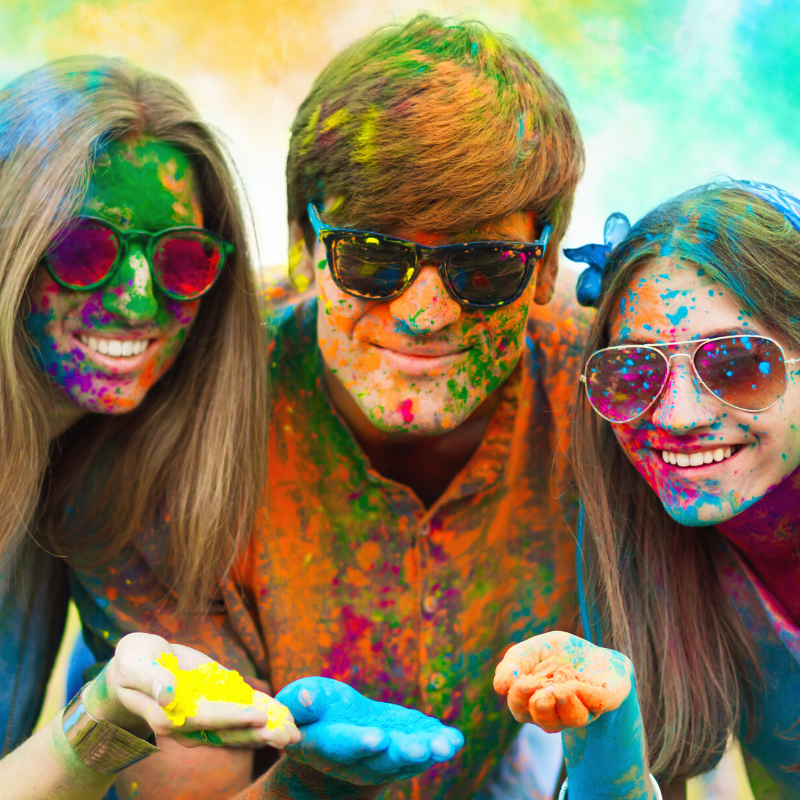 "Every time I called, the people I talked to were extremely helpful. I really appreciated you answering all of my questions and making sure my order went through the same day for shipping."