DIY Gender Reveal Photo Booth
Gender Reveal Photo Booths (also known as Selfie Stations) are hands down a favorite activity at Baby Gender Reveal parties. Because they loosen everyone up and create instant keepsakes, they are one of best gender reveal party ideas.
Numerous companies exist in the marketplace that can outfit you with professional lighting and elaborate backdrops, but we've found that anyone can easily achieve pro results with less money, more creativity, and a personalized touch.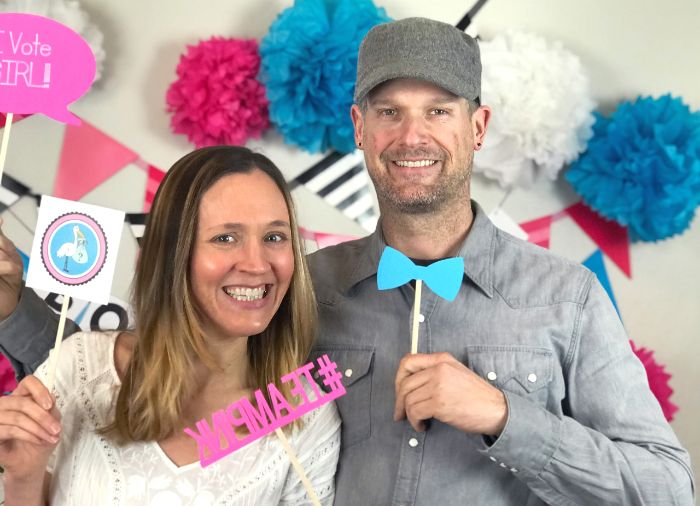 Backdrops Set the Stage For A Fun Reveal
Let your imagination guide you with a gender reveal photo booth, as there are tons of cute gender reveal ideas and unique options out there! In determining the ideal size for the backdrop, we found it best to allocate at least a 5 to 6 foot square to ensure subjects fit within the frame.
Our top picks for creating transformative backdrops are:
Wrapping paper: Choose big bold patterns like stripes and polka dots. Avoid tiny or busy prints because you won't be able to see the details.
Fabric: Medium to heavy weight fabrics work best as they hang straight and you can't see through them. We suggest the same wrapping paper advice in regards to choosing bold prints. And, be sure to prep the fabric by ironing thoroughly to avoid wrinkles.
Streamers & Ribbons: Create a curtain of vertical colors and lines by affixing ribbons all in a dense row to hang behind your subjects. If the photo booth is outdoors, be sure to also secure the bottom edge of the streamers to the ground so the pieces don't blow in the wind.
Décor Collage: Collect a bunch of different party decorations and collage them together on a wall! From fluffs to bunting, plastic flowers to balloons; your creativity is the limit. Hit up the local dollar store and see what you can discover! You can also check the Color Blaze shop for additional fun gender reveal party supplies.
Signage Tells the Story Of Your Gender Reveal Photo Booth
There's no easier way to tell your story than with our Party Banner. Each letter measures at 4.5 inches, and the type is a perfect size for your photo booth! You can use it as a prop for guests to hold, or hang it on the wall behind them. Both are a perfect ways to ask the question of the hour – Boy or Girl?
Ham It Up With Some Props or Colored Powder
Goofy hats, wands, wigs, and costumes put everyone in the mood to act silly in front of the camera. For theme specific options, check out our photobooth prop kit and all the gender reveal kits we offer. All items in the kit are handheld signs that provide a cheeky way for guests to vote their guess of pink or blue!
You can also opt for a more colorful prop – gender reveal color powder. Depending on your need whether it be pink powder or blue powder, tossing color powder while you snap away is a whole lot of fun (best to be done outside!).
Lighting Makes All The Difference
While fancy lights boost drama and help capture your best angle, daylight can be just as good (sometimes even better). Set up the Photo Booth outside against a wall or hung by a clothesline. If weather or time of day inhibits outdoor options, bring as much light into the photo space as possible. We've used clamp lights from the hardware store and side lamps without their lampshade. Do your best to enhance existing lights, but also don't stress about it because phones and cameras are pretty smart these days and make the best of even a dimly lit situation.
And there you have it! Your photo booth is complete. Get ready to cheese!