Holi Color Powder – 7 Easy Tips For Planning Your Own Holi Festival
Celebrate The Festival of Colors with Holi Color Powder!
Holi color powder has risen in popularity over recent years with applications in everything from fun runs to photo shoots.  However, its origin has a rich history steeped in tradition and colorful fun. Celebrated throughout India and Nepal, Holi, also known as Phagwa, and the Festival of Colors is the Hindu festival of spring. It's a time to welcome the new season, honor rebirth, and to celebrate peace, unity and joy! Customs of this vibrant holiday include throwing brightly colored powder (Holi Color Powder, Color Powder or regionally called Holi Gulal) or colored water at one another, and enjoying the merriment of life together!
Hopping on a plane to India is one way to join the festivities, or you can simply host a Holi Festival right in your own city! It's a great opportunity to encourage cultural exchange, meet new people and share in an amazingly colorful tradition that all ages can enjoy. Getting excited? Feeling like you don't know where to start?
Don't worry! Color Blaze has got you covered. Check out our quick tips to host your very own Holi Festival!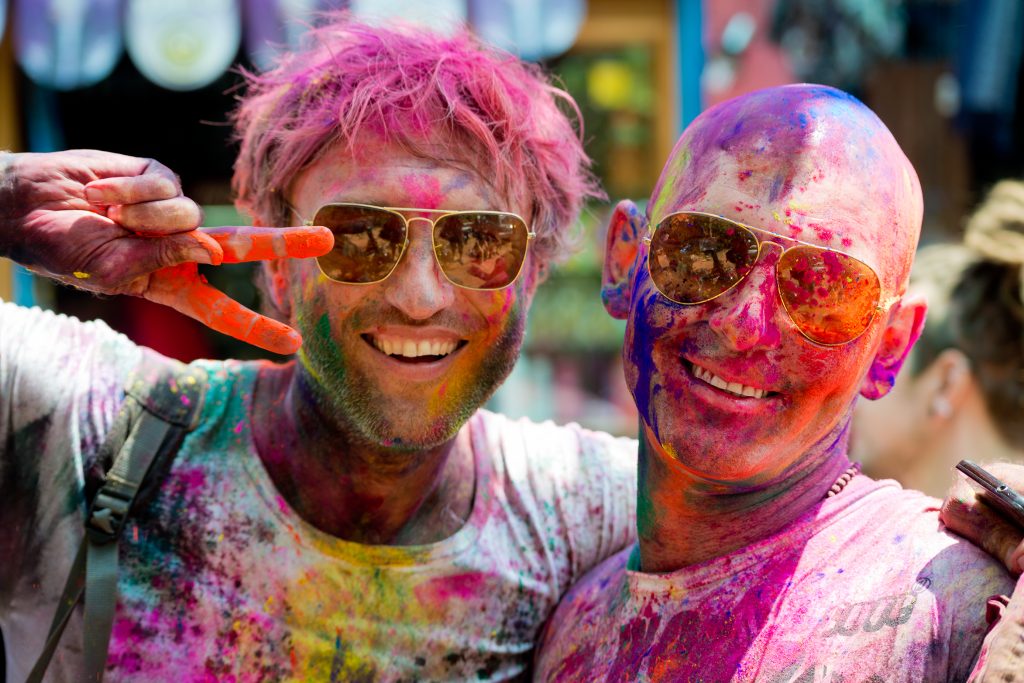 1.  CHOOSE A DATE:
Holi usually falls in mid to late March. You don't need to schedule your festival on the specific Holi dates, anytime around mid March will work.  So get creative with the calendar!  We suggest you schedule it at least 3 months in advance so you have ample time to plan and MARKET your event.
2.  LOCATION: 
It's got to be an open-air affair to accommodate the throwing of holi color powder. Possibilities include a great public park, the university lawn or any outdoor area that provides an enjoyable gathering place and will allow holi color powder/color powder! Get proper permissions and permits for hosting the event and be clear with the property owner that the color powder is not permanent, but rather is as gentle as sidewalk chalk.
3.  PARTICIPANTS:
Holi is for EVERYONE! Kids, adults, grannies, cats and dogs! The spirit and festivities of this holiday is for everyone to enjoy! Ticket sales can be organized through a Facebook Fan Page, Eventbrite, or even your own website. In the description of the event, feel free to suggest attendees come wearing white! Their clothes are a blank canvas for the color and the colors look great on everybody!
In terms of how many people should attend, it is totally up to you. One of the  nation's largest events is held in Salt Lake City, Utah and has upwards of 100,000 participants, largely attended by  Brigham Young University students. Look at your direct community (whether it is students, cultural center members, tourists, etc) and then expand that number to include neighboring communities that will also be interested in the event. The more people enjoying your Holi Festival, the more fun and otherworldly the event will seem.
Color Blaze Color Powder makes it easy to order some awesome awesome bulk and wholesale holi color powder that are exactly what you will need for your Festival of Color! Check out our FAQ's page to help estimate how much color powder is needed in respects to the number of participants attending your event. A handful of color powder is about 2.5 to 4 ounces so we generally recommend about a 1/2 a pound per person depending on how much powder you want available for your attendees to throw around. Individual Color Powder Packets are very popular for Holi Festivals.  You can provide them to your participants at sign up and/or have a table where you sell them to generate additional income.  Of course, our Color Blaze team can help you with all your event needs, They are fully versed in all things Holi and can offer some insight to ensure your event is a grand success.
5.  FOOD, MUSIC, EDUCATION:
Keep in mind that this event has religious and cultural roots that we always want to be respectful towards. Please honor Holi's history by sharing the origin of the holiday with your attendees. Be sure to include information for participants to learn more about the traditions they are experiencing. Also, do some eating research to identify the most authentic Indian food restaurant in your city and invite them to cater or sponsor your event. Find a DJ who knows a thing or two about Bollywood tunes and traditional Indian music. Put together a great soundtrack that showcases the wonderfully fun and exciting music of this vibrant culture!  Music is key in creating a festive environment.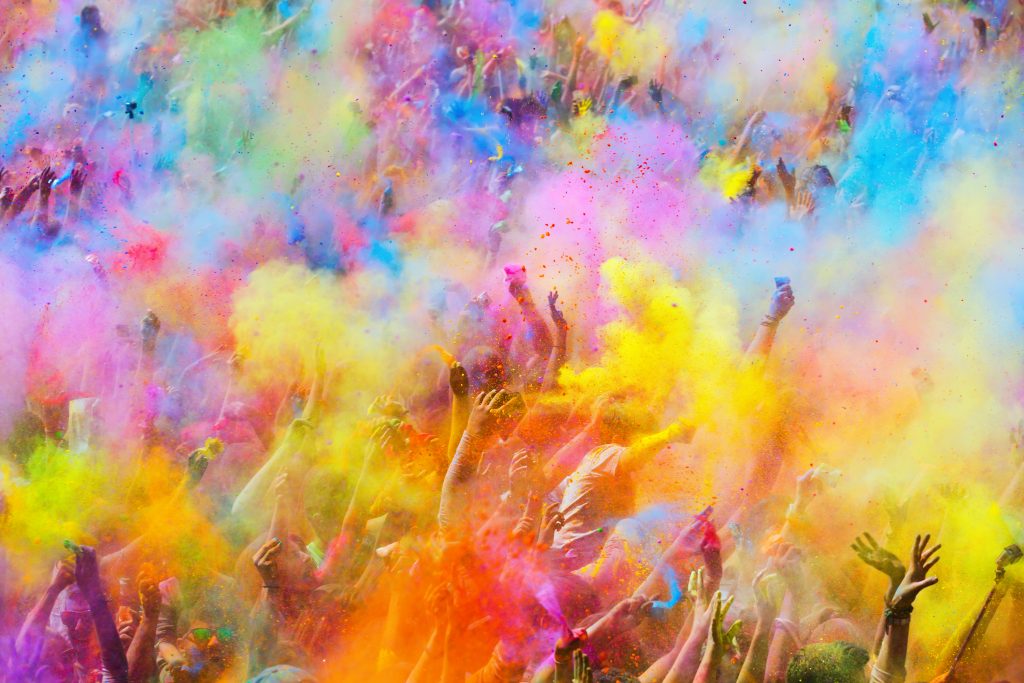 6.  CLEAN UP:
Depending on the kind of venue you choose, the color powder clean up is relatively easy. With a quick power wash, the colors melt away and leave the location as good as new!  Make sure you have many trash cans throughout the space to ensure people have a place to put their garbage and signs reminding attendees to be responsible with their trash.
7.  DOCUMENT THE FUN:
Assign a hashtag to your event and encourage attendees to use it on everything they post on social media. That way it will be easy to see all the fun had at your event by a variety of different attendees. Also, think about hiring a professional photographer to document the event. Or, if you are working with a student community, see if you can partner with the photography department and find some students that want to offer their services.
That's it! Easier than a flight to Bali!
We hope you have fun with a Holi Color Powder event this year! Feel free to reach out to the Color Blaze team by emailing us at  info@colorblaze.com  with any questions. We would love to support you as you plan your event!