How To Make Color Powder – Is It Worth It?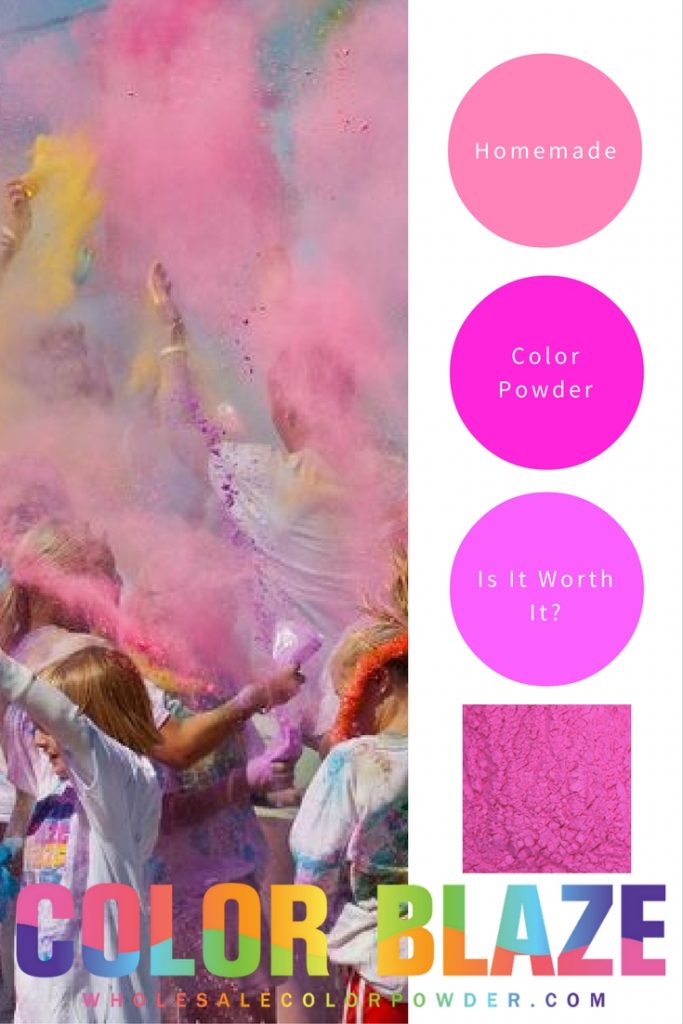 Colored Corn Starch Helps You Make Color Powder!
Wondering how to make color powder? We have seen a lot of blog posts and pins on making your own Color Powder. We've also had customers call us in a panic because they have made homemade color powder with less than stellar results and now their event is around the corner and they need it pronto! We're moms and we're crafty and we actually thought this sounds like it could be a pretty good idea if you just wanted a small amount and we wanted to see if it really worked. Plus we thought it could be a fun activity to do with the kiddos from start to finish – they can help you make the powder, watch it dry, crumble it all up and have a color fight when it's done. So we figured why not give it a try?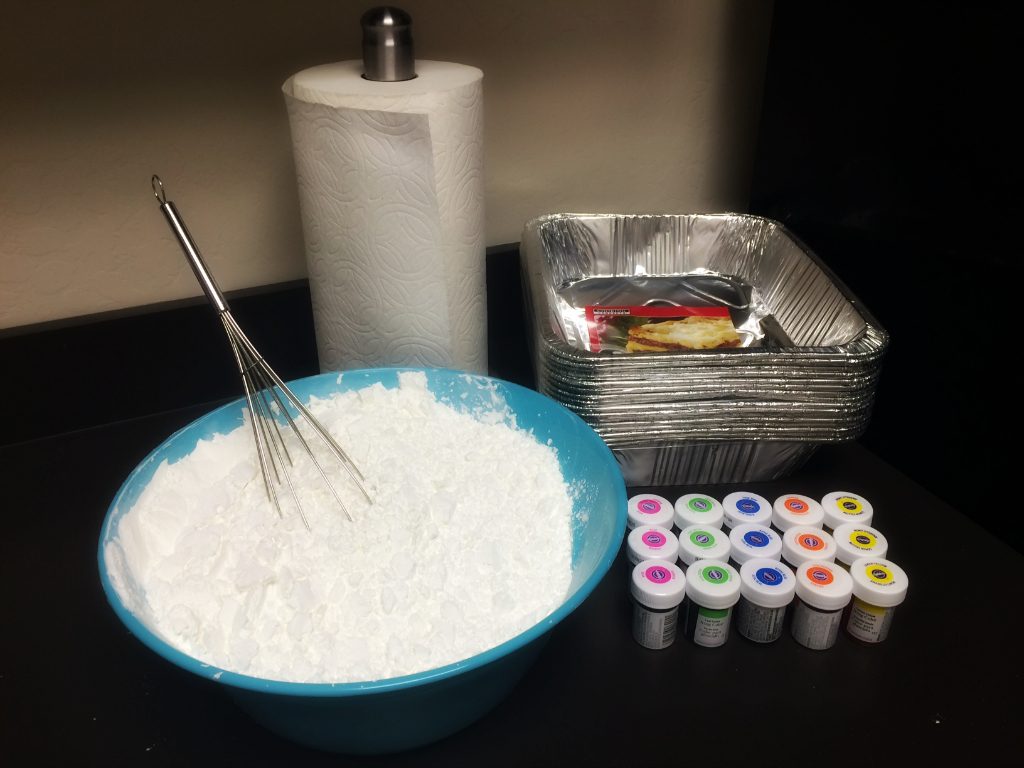 DIY Color Powder Instructions:
We decided to start with 5 pounds – one pound of five colors.  We gathered up the supplies – we found everything at Walmart:
5 pounds of cornstarch  ($1.00 each if you buy the Walmart brand- however, ours only had 3 in stock so we had to go to a second location)
Wilton Icing Color – ($1.75 each) – you need 1 ounce to each pound of cornstarch.  If you are just doing 1 pound of each color you should be fine, but we originally wanted to do 5 pounds of one color and noticed that they didn't have that much dye in stock on some of the colors, so we hit a couple of different stores.  So keep in mind you might have to make multiple trips to round up enough color depending on how much you plan to make.
Foil Pans for drying the powder – ($1.65 for a two pak) – we just got the lasagna casserole pans – 11.75×9.375×2.375.  Note:  we only put 1 pound in each pan and we didn't want to do much more than that.  They are kind of flimsy and we think it would be hard to carry them without spilling if you had more than 1 pound of the mixture in it.
Big Mixing Bowl/Wooden Spoons  – to mix up the powder
Rubber Gloves – We didn't use them and we highly recommend them.  We had bright pink hands for a few days!
Now that we've got all of our supplies, we found a recipe on Pinterest – they are all pretty much the same: 1 pound cornstarch, 1 ounce of color, 1 cup water.
First we dumped the powder into our bowl – do this slowly or you get a big white cloud of powder everywhere. The kids will probably think it is cool but us, not so much.  A fine white layer of powder everywhere – EVERYWHERE!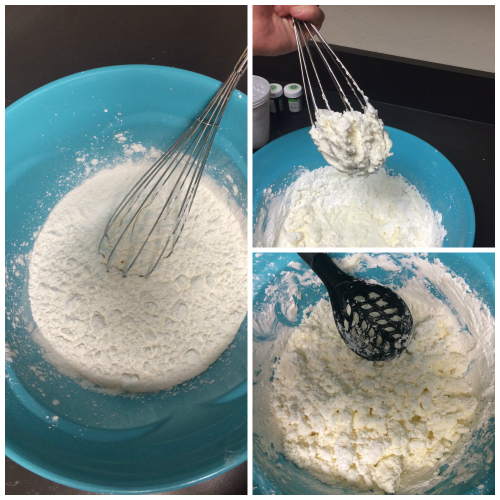 Next we added water and started to stir. 1 cup wasn't quite enough, it was very crumbly so we added about another 1/4 to 1/2 a cup. Don't let the photos deceive you – it looks like a nice soupy mixture below. Not the case! It's like stirring peanut butter! When we first started we had a whisk, thinking it would give us a nice smooth consistency, but quickly discovered everything just clumped up in the whisk and we needed something with more strength so we moved to a heavy mixing spoon. Definitely not something young children could do, you really do have to put some muscle into it.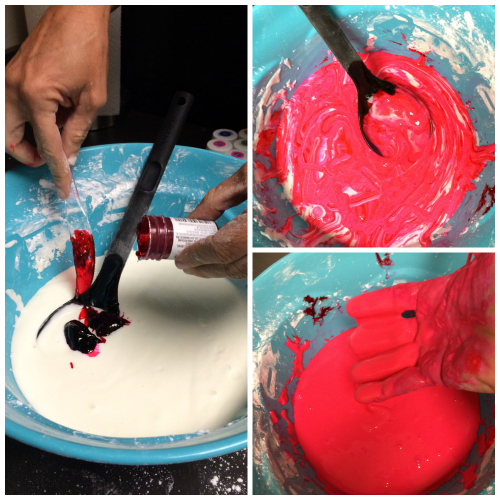 We added the color and made sure it was mixed in thoroughly. It was really hard to mix with the spoon (that peanut butter, elastic consistency)so we just dug our hands in and mixed up the color. WARNING – use rubber gloves unless you don't mind having bright pink hands and nails for a few days! We poured the homemade color powder into our foil pans and took it out to the garage to dry. Do be careful transporting the foil pans. Ours were pretty flimsy and we almost dumped hot pink slime on the floor!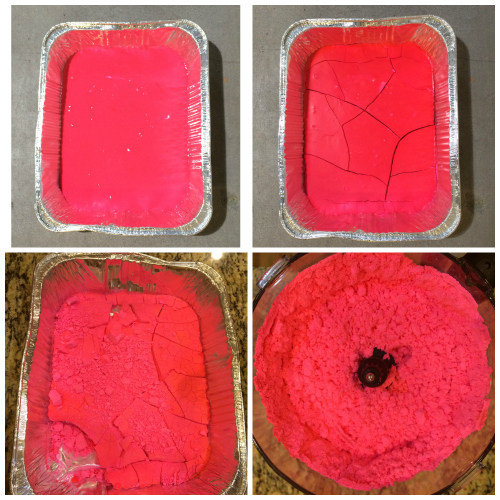 Dry The Cornstarch and Make Colored Powder Magic
The directions say to let it dry for 2 to 3 days.  We are in Arizona where it is very hot and DRY.  So it dried very quickly – within 24 hours it was cracked and easy to crumble.  However, you could still feel moisture in it, so we did go ahead and let it dry for 3 days total.  Note:  We have had several customers call us after making homemade color powder that live in humid areas and report that the powder gets moldy.  We did notice on ours that it still feels like there is moisture in it even after 3 days in 100 degree dry temps,  so we're not sure even in our dry climate how long it will last without getting moldy.  Ew!
Next we broke it up and put it in the food processor.  Whirred it all up for 60 seconds – and Ta! Da! Homemade Color Powder! Overall we were pleased with the color, but the consistency is definitely not as fine or soft as Color Blaze Color Powder.  Even after going through the food processor there were still some chunks in it and it does have a more granular feel to it.  In the photo below the homemade powder is on the left.
Bottom line: Cost for 1 pound – about $3.00 if you only account for purchasing the cornstarch and food coloring.  If you add in time to round up your ingredients, time mixing it up and cleaning it up, drying time and then the time to mix it in the food processor and bag it and clean up again – well, we don't know about you but our time is priceless!  ?
We think if you just wanted to do 1 pound and throw it around in the back yard, it's a pretty messy project but hey! It's your kitchen!  Go for it!  However, if you need enough powder for say a birthday party a color powder gender reveal, school color run fundraiser, or a holi powder festival, you might want to consider ordering our multi mix pack or our 50 count assorted color powder packets.   We figure it would cost approximately $75 for ingredients to make our multi mix pak ($3 times 25 pounds.)  Our multi mix pack is $99 .  So you do save about $25 making it yourself, but you have to consider the time.  We had one customer call us saying it took her hours and hours and then it ended up being moldy!  Yes, we may be biased because we work at Color Blaze after all, but  being busy moms as it is, $25 was worth it for our time and not having to deal with the mess!