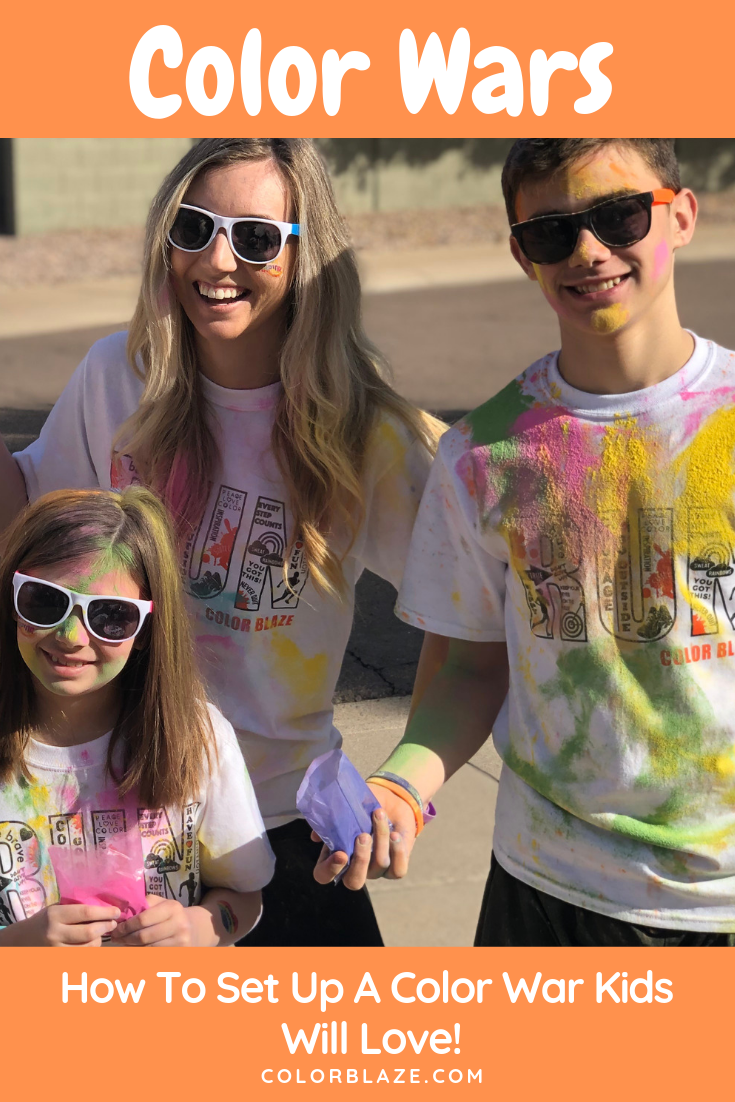 What Is A Color War?
Color War's are a great activity for youth groups of any kind as well as summer camps and teambuilding events for any school organization. You've seen the pictures.  Kids covered in color powder armed with handfuls of rainbows, smiles a mile wide in the midst of a color war of epic proportions.    A Color War usually consists of groups of kids throwing color powder at each other!  Different games can be incorporated and you can choose to set up teams or not.  What's most important is fun, the outdoors and color war powder!
How do you set up a color war?
Step 1 – Determine the color war rules of play
Many groups plan a capture the flag type of game.  Others just give everyone color and let the games begin!  No matter how you choose to stage your color war you will need to determine your weapons of choice. (Or – how you plan on having the kids throw the color powder)
Step 2 – How to Throw the Color Powder
Color powder can go very quickly in a color war.  That's why it is important to determine how you are going to throw the color powder.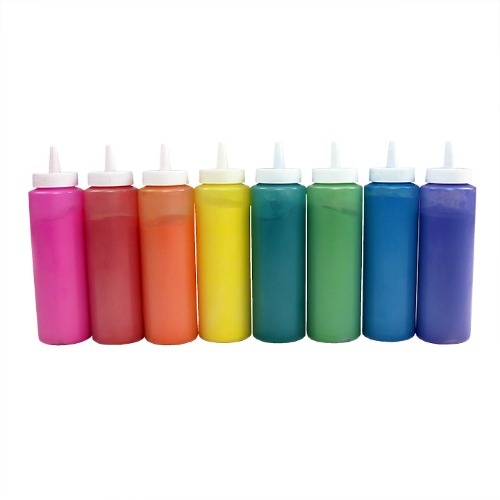 Squeeze Bottles – 8 ounce squeeze bottles filled with color powder work great!  Each squeeze bottle holds about a half a pound of color powder.  The kids just point their bottle and squeeze and a stream of powder comes out.  The powder will last much longer in the squeeze bottle than it will if you are just throwing handfuls of powder.  Make sure the kids are aiming for the chest down and not pointing the bottles towards someone's eyes.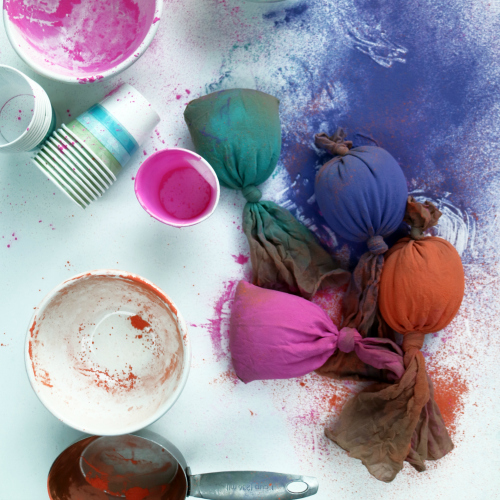 Color Powder Balls – Homemade color powder balls work great for a color war and also help you conserve the color powder.  You can see a tutorial on how to make them here.  All you need is pantyhose or some thin tube socks and color powder.  The kids throw the balls at each other.  When it hits another person, you'll see a poof of color.  The more the ball is depleted of powder the more it will poof!  As they throw them they can just pick them up and throw them again and again until they are out of powder.  Another benefit to color powder balls is that making them can create another group activity.  If you have a youth group that meets regularly, at one meeting you can engage all the kids with making the balls.  At the next meeting you can stage your color war!
Dixie Cups – You can use the small bathroom size Dixie cups and kids can fill their cups and then throw the powder at each other.   Set up 5 gallon buckets of powder in a safe zone where they can run to the buckets, fill their cups and then re-enter the field of play.  Just make sure they know that they can't attack each other in the safe zone or you will end up with tipped over buckets!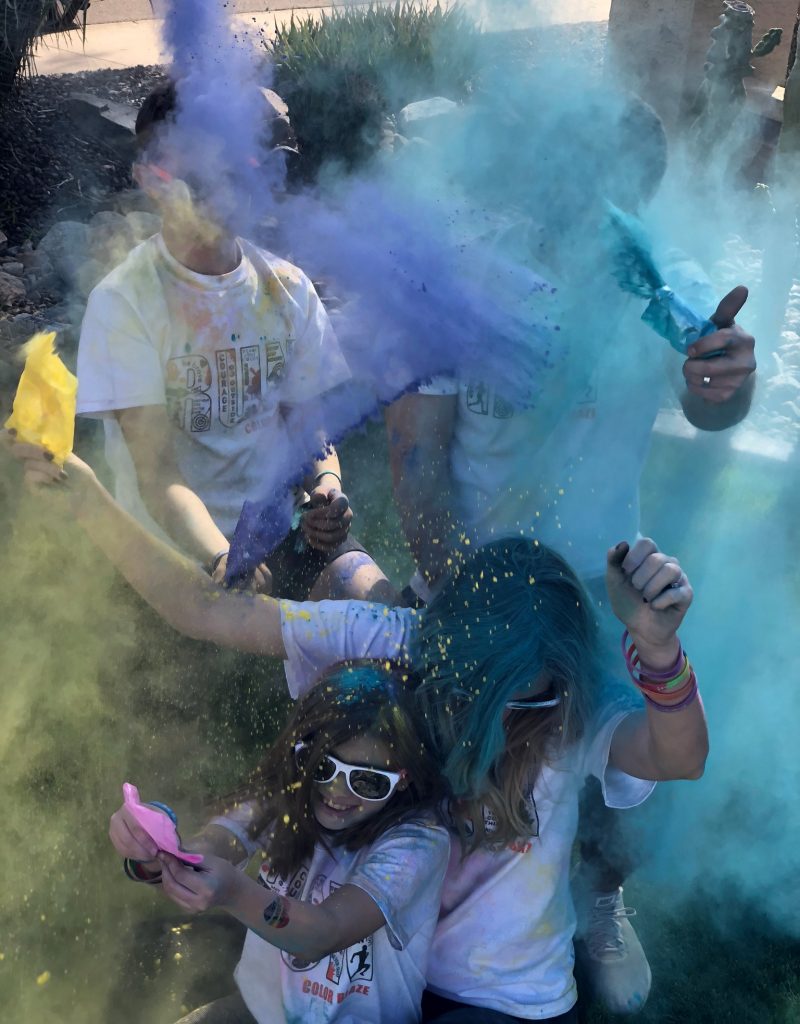 Individual Packets – Many people choose to hand out individual color powder packets to each person.  People like the packets because they don't have to prepare anything.  However, there are a few things you need to keep in mind.  Each packet has one to two tosses of powder in it, so they go quickly.  The packets themselves are not as economical as buying bulk powder in 5 pound or 25 pound bags.  And finally, you will have a lot of empty packets to clean up off of your field of play when you are done.
Step 3 – Order your color powder.  Once you have determined the method of throwing the powder you can determine how much you color powder you will need for a color war.  We generally recommend a minimum of ½ pound up to 1 pound of powder per participant depending on how you choose to use it.  ½ pound will fill an 8 ounce squeeze bottle and make approximately 2 color powder balls depending upon how large you choose to make them.  Each Dixie cup holds approximately 3 ounces of powder.  With individual packets we suggest a minimum of 4 packets per person.
Step 4 – Color Armor.  Determine what everyone's uniform is going to be for the day.  It can be as simple as white t-shirts or you can go all out and order Color Blaze T-shirts or have your own printed.  You may also want to consider sunglasses (they look cool and protect their eyes), tattoos, inspirational bracelets, bandanas, tutus, colorful socks etc.  We have some of the items available for individual purchase on our website or you may want to consider our race kits which come with sunglasses, bracelet, tattoos, an individual color powder packet and with or without a t-shirt.
Color War Party Box – we just introduced a new product – The Color War Party Box!  It includes 25 pounds of color powder along with 48 eight ounce squeeze bottles, 48 tattoos, inspirational bracelets and sunglasses.  It's a great value and an easy way to do your first color war – Check it Out!
Step 5 – Wage Your Color War! Draw your battle lines and engage combat!  Don't forget to take some before and after photos!  A great way to start off your Color War is with a color toss!  Even if you opted for the squeeze bottles of color powder balls, you can still order one individual packet for everyone.  Group them together by team and color if you like and count down and everyone toss their packet in the air.  Everyone gets a little covered in powder to start off and it makes for a great photo opp!  Click here for a step by step tutorial!