What To Include In Your Color Paint Run Race Kits
Kids in a paint run covered from head to toe in colored powder with smiles a mile wide paints a pretty enticing picture for school fundraising! Rainbow paint runs are great fundraising vehicles because a fun run where you get to get messy gets people involved!
Paint Run Race Kits with Color Powder For a School Fundraiser
One way to add interest to your color fun paint run for charity is to provide participants with a Race Kit. If you have ever participated in a fun run you are familiar with the typical fun run accessories – usually a t-shirt, maybe lots of coupons for different businesses and perhaps some other goodies thrown in. So what items should you include in a Fun Run race kit?
What Should Be In Our Paint Run Race Kits ? How to Organize a Fun Run With Color
We believe it is all about the colors for a paint run and all about inspiration and smiles. Ours include:
A t-shirt – A hip design with lots of inspirational words.
Individual Powder Packet – everyone's gotta have some of their own personal shade
Sunglasses – to keep the dust out of the eyes – and well just to look cool in general.
Inspirational Bracelet – for inspiration as well as the fashion statement.
Temporary Tattoos – Fun and Inspiration and who doesn't want to be tatted up temporarily.
Color Blaze Sticker – the coolness factor of course!
How to Put Together a Paint Run Fundraiser
So, how to organize a paint run race kit?
We like to keep ours bright and colorful with items you will need for your race as well as just some fun toys. If the fun run accessories are festive, it conveys that the race is going to be fun and it also can be used as an incentive to get people signed up. You can provide a set of fun run gear to the early bird sign ups or you can charge more for the race registration if it includes a paint run race kit.
The list of items to add to your own fun run kits are endless but the most important thing to keep in mind is to choose items that are going to appeal to the community. The second most important thing to remember is to choose items that are low cost and/or free so you aren't increasing the costs too much. Items such as t-shirts will likely be the most costly but a t-shirt also provides great marketing for your event next year. As the participants wear your shirt throughout the year they are providing advertising for you and it keeps them looking forward to the next one!
Get Locals Involved When You Host a Paint Run | Fun Fundraising Ideas
Get Free Stuff for your Paint Run! Ask the local business community for donations. The local dollar store may be willing to donate bandannas or candy. The local ice cream store might give you coupons for free ice cream. Maybe the grocery store or sports store would give you granola bars or power bars. Don't overlook your school community, you never know what connections parents may have. Perhaps someone knows a sports drink rep or a someone who owns a promotional company that would be happy to donate samples.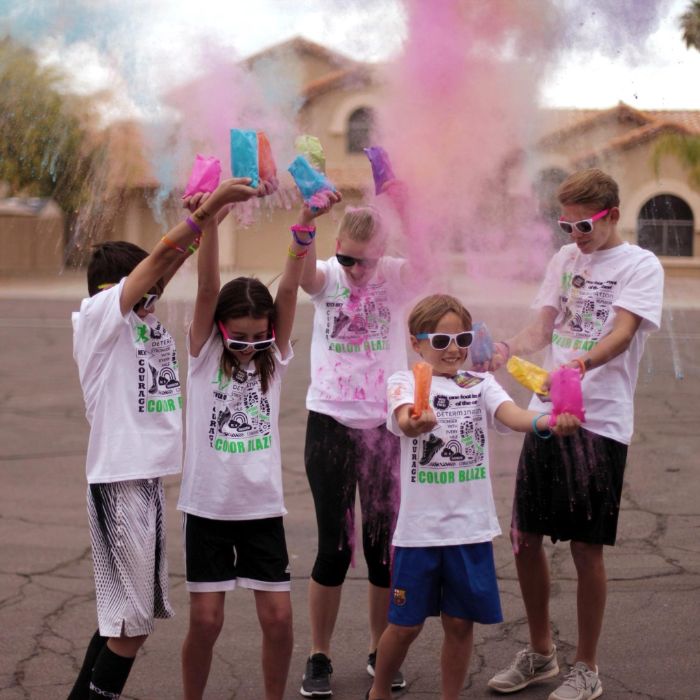 Whether you decide to make your own or use one from our product list, a race kit should definitely be considered to add to your paint run fundraising possibilities.
We also supply schools and organizations with their holi color powder needs for Spring Festivals. Whether you're looking for holi powder, charity event supplies, or anything to do with Vibrant Festive Events, Colored Powder from Color Blaze is most definitely the top choice for you!