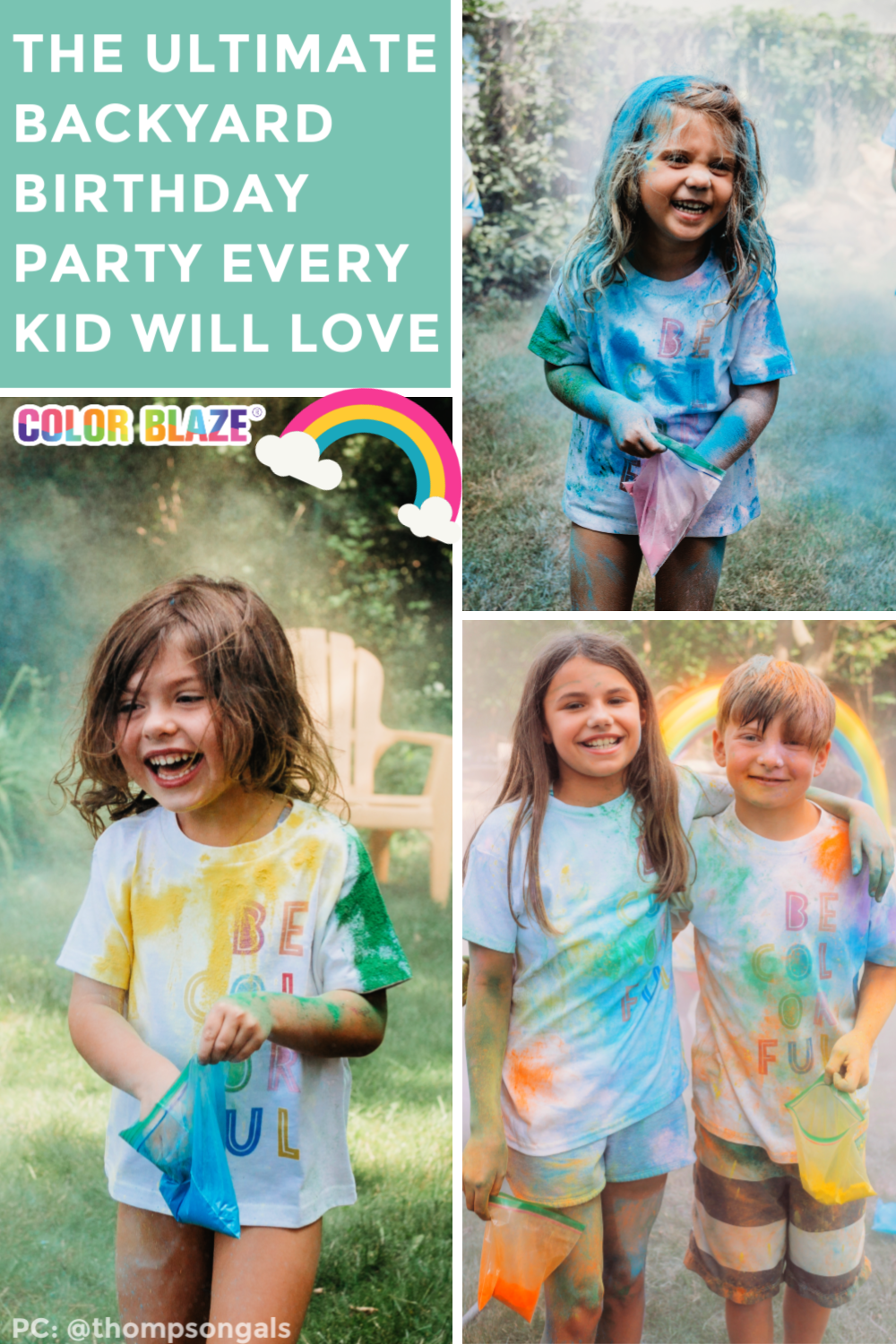 Bring the color powder run fun home, and host the ultimate backyard birthday bash that every kid in your neighborhood will love! Circus themed birthday parties are cute, but how about a RAINBOW of color and an EXPLOSION of fun! This theme is perfect for kids of all ages, and it will certainly have your guests leaving with a smile. We've talked to Brittany (IG: @thompsongals), and got all the details on how to plan and create the perfect backyard birthday color party. Harper asked for a Rainbow Party, and her mom delivered!
What Should My Guests Wear?
You are going to want to see the color on your guests as they're catapulting color across the yard, so you are going to want to instruct them to wear WHITE. Brittany found these awesome themed shirts that she had ready for her guests, but any plain white tee will work. She also instructed her guests to wear/bring their swim suits because they will be getting wet and go swimming afterwards.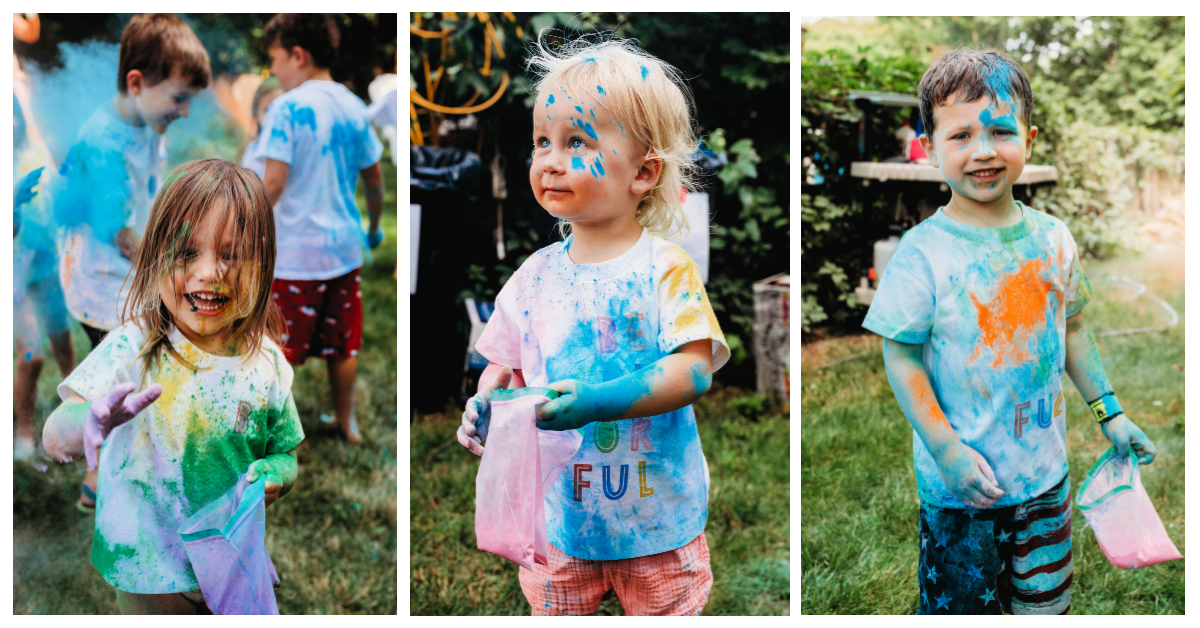 How Much Powder Should I Order?
Brittany had 20 children in attendance, ranging from 18 months old to 10 years old. She ordered our Color Powder 6-pack, which comes with 6 – 5 pound bags of different colors. This gives every participant around 1.5 pounds of powder to throw around. With her bulk color powder, Brittany then created her own baggies of powder to hand out to her participants. This helped her keep track of how much each child was using, and keep it a little more organized. We also carry pre-made packets that make it super easy to hand out as well.
What Do They Do With The Powder?
With a backyard birthday party, the possibilities are endless! You can get as specific or non-specific as you'd like. We've seen people play games with the color powder (click here to read about all the games you can play with color powder) or have a free for all! Our friend Brittany did just that. She said "We basically just yelled GO! And they started throwing it and obviously had a ton of fun!". She did instruct the children not to throw in anyone's face and to keep it just on the shirts, which is a great tip.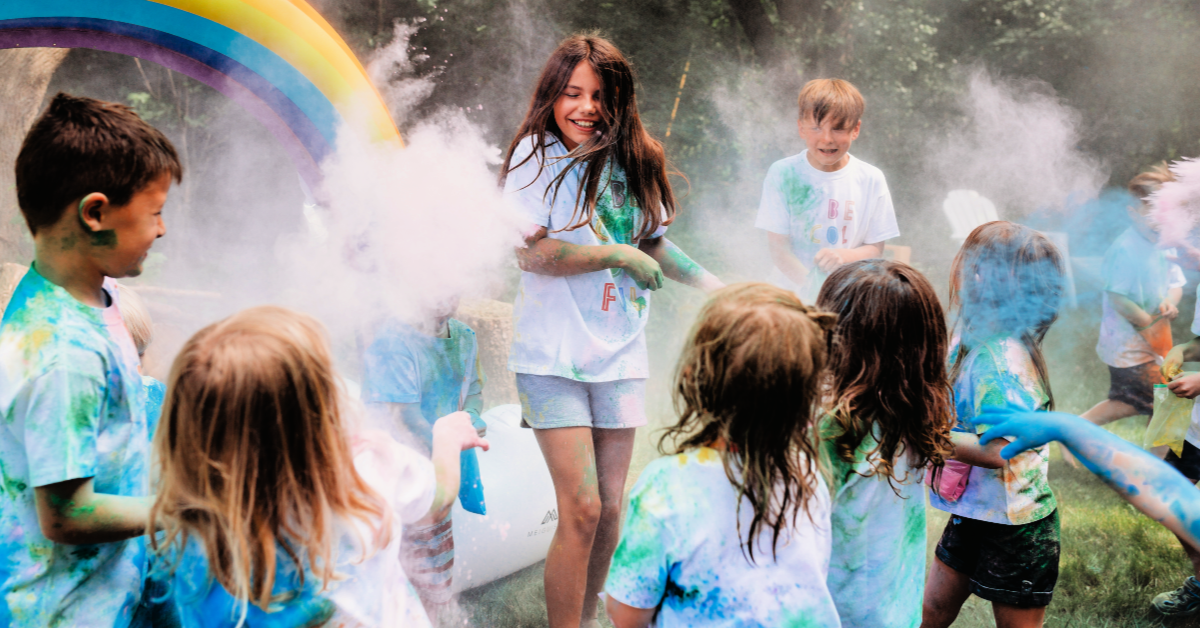 How Do I Clean It Up?
Halfway through their color battle, Brittany flicked on the sprinklers for the kids to run around in. Do you see that super cool rainbow inflatable? That is an awesome SPRINKLER that Brittany found on Amazon (we found it here for you). Now that everyone was wet and colorful, they took their hose to get off whatever powder they could and then let them jump in the pool, and then the pool did the rest of the job. She said she did bring out some shampoo to scrub their heads with, and some of the blonder kids did have to double lather. We also suggest having some Dawn Dish Soap on hand – it works wonders (just ask our staff 😉 ). The color powder is biodegradable, so it will just wash away from your yard or play area with water or natural elements. You can also take a leaf blower to break up some of powder piles.
This is such a fun way to get everyone outside and active. Create long lasting memories for your children and their friends, while letting them get messy and be kids. Happy 5th Birthday Harper!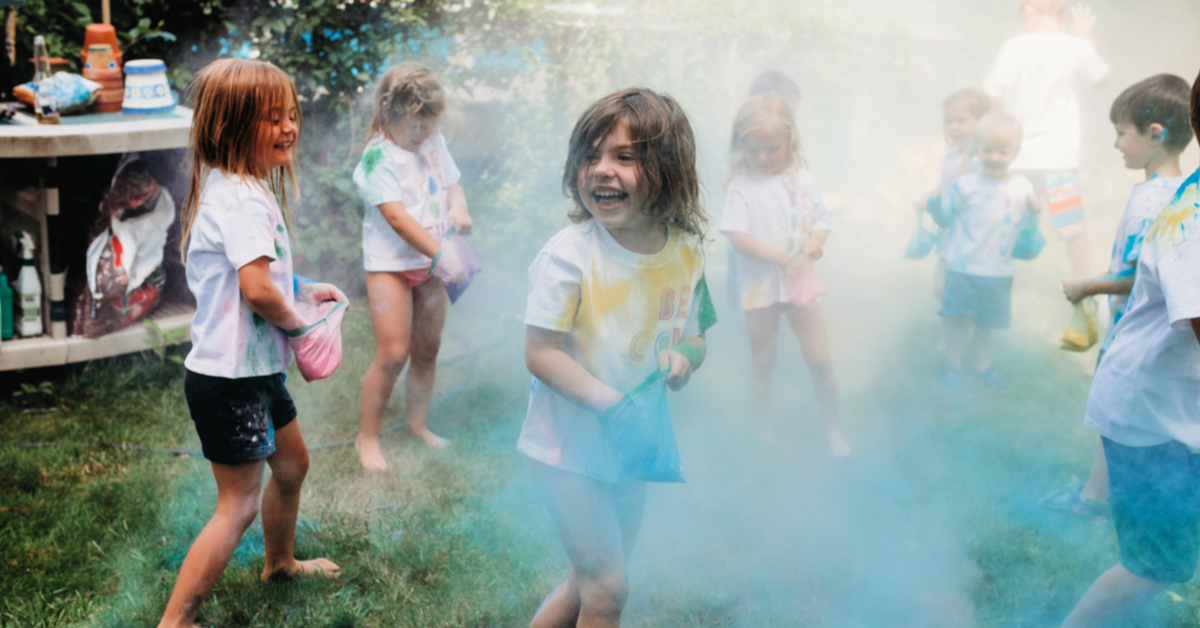 Photography Credit to IG: @thompsongals – Brittany Leigh Photography