Wholesale Color Powder Coupon Deals by Color Blaze
Fundraising events like Color Blaze Runs have become increasingly popular as a way to engage your community and raise funds for your organization. Many are in search of what powder is used for a fun run and where to buy wholesale color powder at great prices so you can maximize school fundraising or charitable fundraising efforts. Wholesale color powder coupon's from Color Blaze can help start your event while meeting your budget.
What is Color Powder?
The colors used in these events are known by a myriad of different names – color powder, colored chalk powder, colored dust, holi powder, colored corn starch and many more variations of these terms. The ingredients are Food Grade Cornstarch and FDA and FD&C approved food and cosmetic dyes. It is bright, vibrant that throws easily and gives the participant the feeling of walking through a rainbow. It is washable and washes out of most clothing and skin and hair easily. Keep an eye out for wholesale color powder coupon's!
What Kind of Color Powder Packages are Available
It is usually available in individual packets and bulk orders by the pound on a few websites. Individual packets are usually used by the participants of a fun run to throw color on each other and themselves. The bulk package is used by race volunteers to throw on the participants as they run through stations. Color Blaze sells in bulk in 5 pound and 25 pound bags. If you are ordering for the first time use wholesale color powder coupon code FIRST5 for your next event or run.
Color Blaze | How to Set Up Color Stations for Your Color Fun Run
How Much Powder Do I Need for a Fundraising Event?
How much color powder you need is based on how many color stations you are planning on having at your run. Here is the general rule of thumb:
3 stations – ½ pound per participant
4 stations – ¾ pound per participant
5 stations – 1 pound per participant
For example if you are planning on 4 stations for your fun run event and you will have approximately 200 participants you would need 150 pounds divided between the 4 stations.
Exciting Wholesale Color Powder Deals
We offer free shipping on almost all of our products. So it doesn't matter where you are located, you don't need to worry about high shipping costs.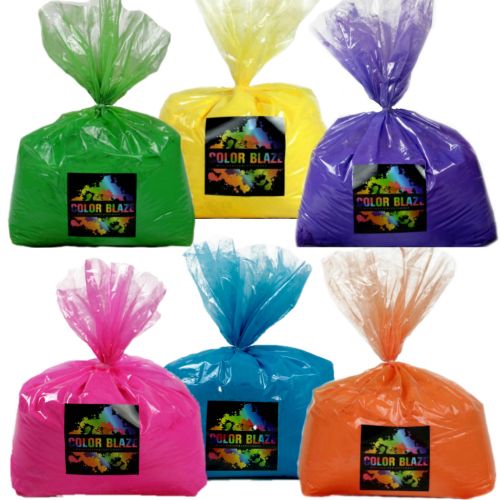 For smaller fun runs we offer a great package – the six pack deal – which contains six 5 pound bags in the colors of your choice.
Perhaps our most economical package is our Race Kits.
Whether you are hosting a large or small fun run, it comes with everything you need for the event and make it easy to calculate the costs and how much you will raise. Race Kits include – enough bulk holi powder for 3 stations (½ pound per order), an individual packet for each person, tshirt, sunglasses, inspirational bracelet, tattoos and a sticker.
If you sell your race kits as part of your entry fee at $25 you will make $13 on each pack sold. If $12 per person is out of your budget you can order our Race Kits without the Tshirt for just $7 – you get all the same great gear and powder packet less the tshirt. Both are a great option for fundraising and save you from having to source all of the products on your own.
If you are interested in other fundraising ideas visit our blog post How to Raise Funds with Color Blaze Runs. For a complete listing of all of our products ranging from individual packets to wholesale deals, visit our site and browse all we have to offer!